So now that I'm officially knitting... ( surprisingly after deciding to just forget about it 2 years ago... ) I decided to be a "proper" knitter this time.. than just someone who knows how to co, knit, purl and bo..
Here are projects which I hope to finish, and only that time, will I call myself a knitter....( talk about being too hard on yourself ehheeh )
1.
Dahlia Cardigan
by
Heather Zopetti
Photo by Heather Zopetti
2.
Boxelder Cardigan
Photo Credits from Knitscene
3.
Gail Shawl
4.
Lattice Top
by
Purl Bee

Photo Credits from purlbee.com
5.
Yapraklı Baktus
6.
Haruni
7. Lace Dresse by
Shirley Paden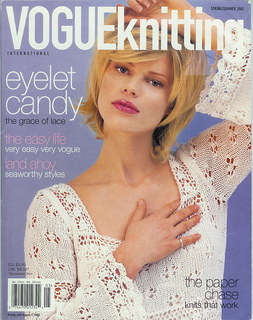 vogue knitting cover
Of course, I am giving myself a long time frame to finish these items.. I want to take my time to learn, which is one thing that I didn't do before..